Table of Contents
---
---
What is Edema?
Edema is the medical term for swelling caused by fluid retention. Previously known as dropsy, edema is commonly found in the legs, ankles, and feet, but can affect any part of the body. Edema can affect people of any age, but it is most common in older adults. [1]
There are several common causes of edema, including injury, pregnancy, and infections. While edema is a common condition, it may be a sign of a serious underlying medical problem. Edema occurs when excess fluid becomes trapped in body tissue.
The most common symptom of edema is a swelling or puffiness under the skin. In addition to the swelling, there are other signs of edema. Another common sign of edema is skin retaining a pit after pressing firmly for several seconds. Other symptoms can include shiny skin stretchy skin and increased abdominal size. People may also have other symptoms depending on where the swelling is located. [2]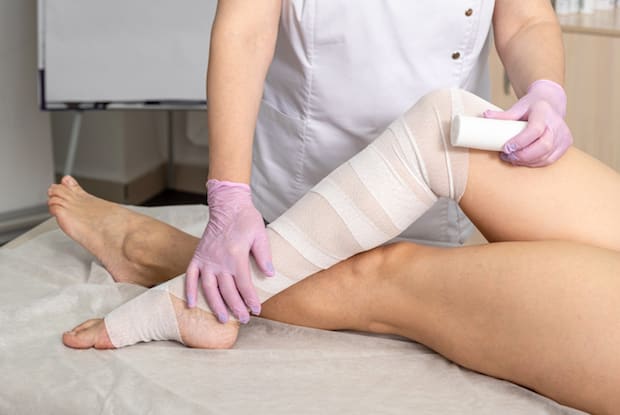 Keep reading to learn more about edema, including types of edema, causes, and how it can be treated by medications like Bumex (bumetanide).
Types of Edema
There are several different types of edema. The type of edema is based on where the swelling occurs. Common forms include:
a. Pulmonary Edema
Pulmonary edema happens when fluid gathers in the air sacs of the lungs. This can make breathing difficult and cause an increased heart rate or the feeling of suffocation. Pulmonary edema is a serious condition and may be caused by congestive heart failure or an acute lung injury. [3]
b. Peripheral Edema
Peripheral edema is swelling in the arms, hands, legs, ankles, or feet. Peripheral edema may be a sign of a kidney, circulation, or lymph node problem. [4]
c. Cerebral Edema
Cerebral edema occurs in the brain and maybe the result of head traumas, blocked blood vessels, tumors, or an allergic reaction. Fluid collects in the brain and maybe a sign of several life-threatening conditions. Signs of cerebral edema can include headache, vision loss, nausea, vomiting, and neck pain. [4]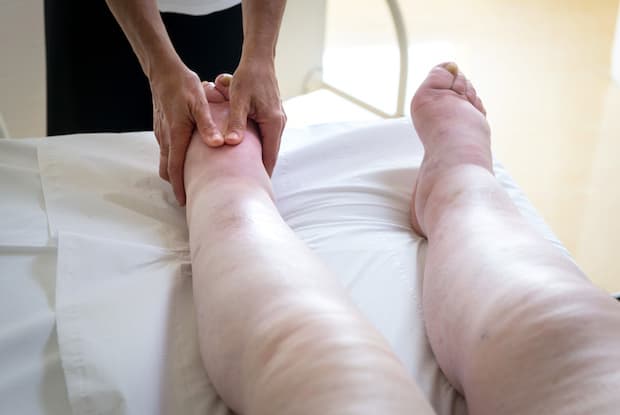 d. Macular Edema
People with macular edema have to swell in the eye. This condition occurs when damaged blood vessels in the eyes cause fluid to leak. This can be a serious condition that can cause vision changes. [3]
e. Lymphedema
Lymphedema involves swelling in the arms and legs. Lymphedema is typically caused by damaged lymph nodes and may be the result of cancer treatments. [4]
f. Pedal Edema
Fluid collects in the lower legs and feet and makes movement more difficult. Pedal edema is more common in older adults and women that are pregnant. [4]
What Causes Edema?
Edema develops when fluid leaks out of blood vessels known as capillaries. This fluid then collects in the body tissue surrounding the capillaries and causes the tissue to swell. There are several different causes of edema.
a. Medical Conditions
Often, edema is a symptom of another illness or medical condition. Many conditions can cause or worsen edema. Congestive heart failure can reduce the heart's ability to pump blood around the body effectively. This can lead to blood accumulation in the legs, ankles, and feet. [2]
Edema can be caused by kidney conditions. Kidney damage can result in lowered levels of protein in the blood. This can result in fluid gathering leading to edema. Kidney disease can also cause edema, as extra fluid in circulation may collect in parts of the body.
Other medical conditions that can result in edema include liver damage, chronic venous insufficiency, an inadequate lymphatic system, and long-term protein deficiency.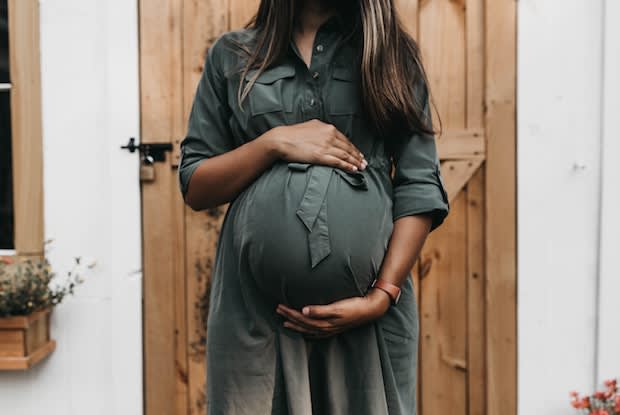 b. Causes of Mild Edema
There are a number of other causes of edema. Mild edema may be caused by a high-sodium diet pregnancy, and sitting or standing for an extended period of time, especially during hot temperatures.
c. Medication Side Effects
Almost all medications cause unpleasant side effects. Doctors should only prescribe medications when the benefits of the medication outweigh the side effects. Medications that may lead to edema include drugs for diabetes, inflammation, pain, and high blood pressure. [5]
Edema Treatments
Usually, treatment is not required for mild edema. Moderate to severe edema should be treated by treating the underlying cause of the condition.
Edema is often caused by liver disease, kidney disease, or congestive heart disease. When edema is the result of these conditions, it can be treated with diuretic (water pill) medication. Medications such as Bumex (bumetanide) and Lasix (furosemide) can increase the frequency and amount of urine. By urinating more often, fluid from the legs can flow back into the blood, improving the condition of edema. [4]
Along with diuretics, reducing salt in the diet, limiting alcohol, and monitoring weight can help treat edema caused by heart failure. [6] If edema is caused by taking other medications, your doctor will try and find alternative medications to treat conditions.
The content in this article is intended for informational purposes only. This website does not provide medical advice. In all circumstances, you should always seek the advice of your physician and/or other qualified health professionals(s) for drug, medical condition, or treatment advice. The content provided on this website is not a substitute for professional medical advice, diagnosis or treatment.